Picking your perfect ride is not an easy task. The automobile industry is jam-packed with various options such as SUVs, sedans, coupes, pick-ups, compact cars, and so on. The diversity of these automobiles makes it confusing for people to make a decision. Nonetheless, if you are one of those people befuddled to make a decision between a car or a truck, you have tumbled upon the right place.
Buckling down to trucks, we have assorted the finest five (05) picks of 2021 while elaborating on some of the pros and cons to help you make a decision suited to your need.
Pros and Cons of a Truck
Cars and trucks are poles apart when it comes to their features and applications. They have completely different price tags and specifications and real-world applications. Generally, trucks are for people who savor off-road shenanigans and/or who regularly transport goods and need to haul cargos.
Pros
High-powered Engine
Trucks come with powerful engines, one of the main reasons why people are so into trucks. You can feel its high-powered engine once you put your foot on the pedal. And the sound and intensity is simply put – amazing.
Cargo Bed
Cargo beds are much like the pick-up truck. It's what makes them different from every other vehicle. Instead of back seats, pick-up trucks consist of a flat-bed as the other half of the car. They are used to store or move large and heavy objects.  
Durability
The body of a truck is strong and powerful. The durability makes it safer, which means accidents have less of an impact overall and offer a greater degree of safer long hauls.
Cargo Hauling
Cargo hauling is one of the best capabilities of a truck. They can pull other vehicles and handle heavy weightage quite easily. The cargo bed of a truck is separated from its cabin, which allows the truck to be flexible while towing a heavy object.
Off-road Driving
Off-road driving is an exciting perk that comes with a truck. This fun cannot be availed with a car. Cars are small and compact, and they can't handle off-road driving due to their low ground clearance and reduced durability. The tires of a truck are especially designed to handle the stress of rough terrain.
Cons
Difficult Handling
Since trucks are big and heavy, they are difficult to maneuver on the road. Not to mention they occupy parking spots of two or more vehicles nearly all the time. 
Few Seats
Trucks are not considered family cars since they have less seating capacity. The lack of back seats adds to the problem; however, people can enjoy sitting in the cargo bed using blankets, bedspreads, and cushions. There are also benches designed for the sides of a cargo bed, but it's not considered comfortable per se.
Expensive
Along with a big size of a truck, comes a bigger price tag. At a basic Ford truck price, you can get a brand-new coupé with all the futuristic features and upgrades you need. Although the price is justified to truck lovers either way.
Trunk Security
Since a cargo bed is open-air, people are often concerned about their trunk's security. You will need to keep your belongings out of sight or invest in a cargo cover.
Top 5 Trucks Of 2021
Before you invest your precious money, you might want to pause and ponder over our top five (05) picks for trucks of 2021. We have assembled the best trucks that you can buy to save your time and money altogether.
1.Honda Ridgeline 2021
Starting at $37,715, Honda Ridgeline is the only pick-up truck Honda has to offer, but don't let that disappoint you. Roomier and comfortable than any of its competitors, its V-6 powertrain is a 280-hp 3.5 liter that makes 262 lb-ft torque.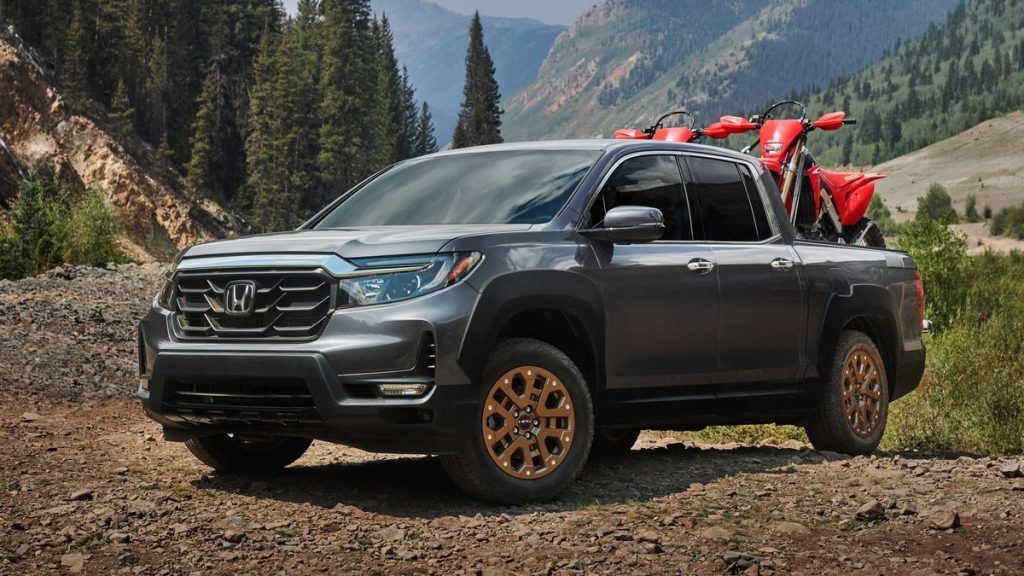 Ridgeline is more fuel-efficient and accelerates quickly. It's a standard all-wheel drive that can tow up to 5000 pounds. What further bolsters the Ridgeline is its automatic, smooth, and competent drive on the road. With its all-new fancy features, the 2021 Honda Ridgeline gives a classy and unparalleled feel.
2. Chevy Colorado 2021
The 2021 Chevrolet Colorado starts at $26,395. It is a fine everyday pick-up truck offering practicality with significant towing and payload ratings. It is easier to manoeuvre than its successors, which were quite big.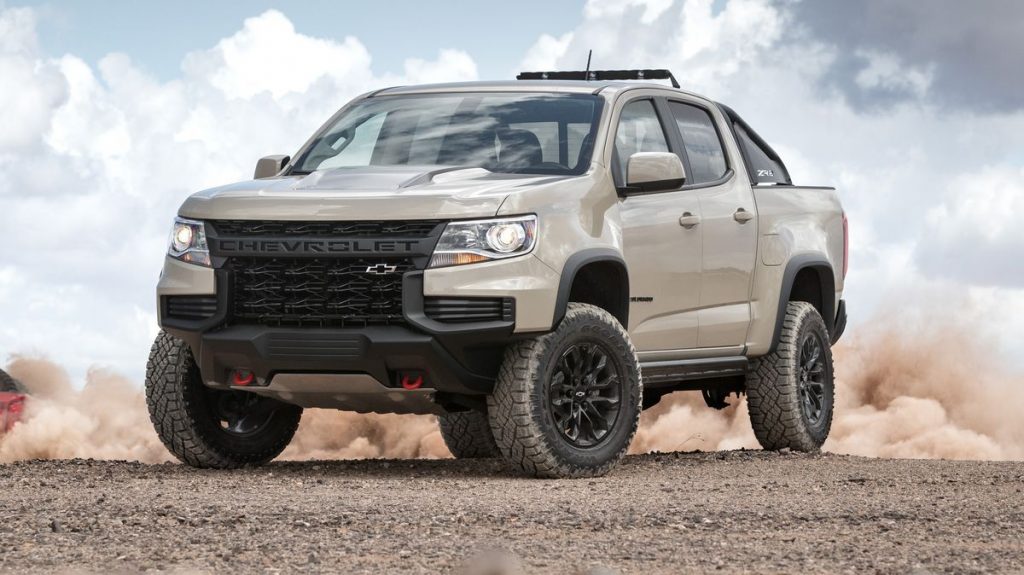 The Colorado comes in a four-cylinder with a six-speed automatic transmission, a 308-hp V-6 with an eight-speed automatic, and a 2.8-liter four-cylinder, making 396 lb-ft torque. Although Colorado is a fine truck, but its absence of technology and inferior interior does affect its popularity.
3. Ford Super Duty 2021
With massive torque and towing figures, the 2021 Ford Super Duty starts at $35,925. Ford's Heavy-duty trucks are way more robust and durable than anyone.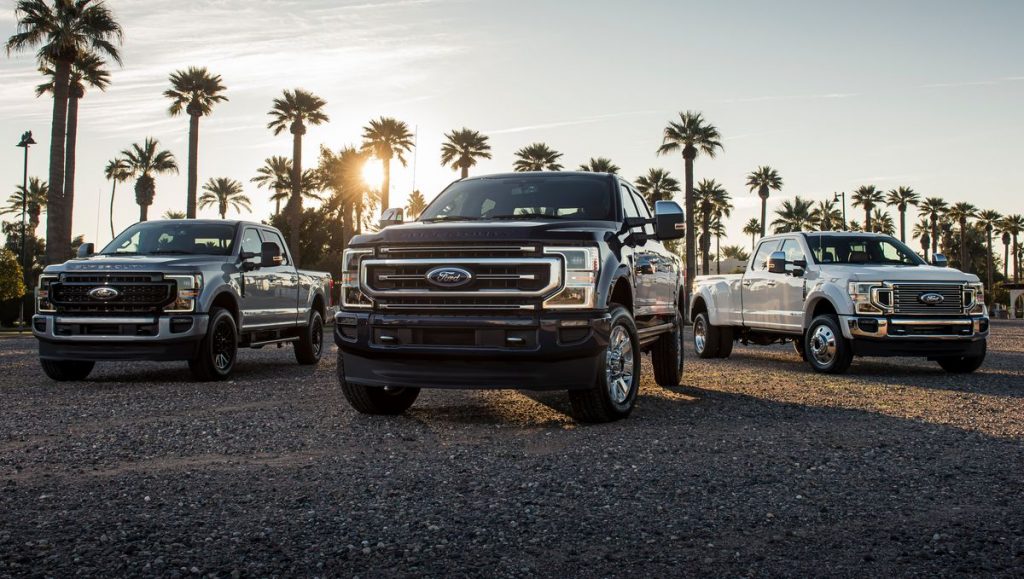 Super Duty is not only a versatile truck but a luxurious machine. Its diesel engine can create 1050 lb-ft of torque, and its meanest model can tow 37,000 pounds. With all its mighty capabilities, it comes with a luxurious interior and display. 
4. Ford F-150
The 2021 Ford F-150 begins at $30,985. Ford F-150 comes in various engines with a well-constructed cabin.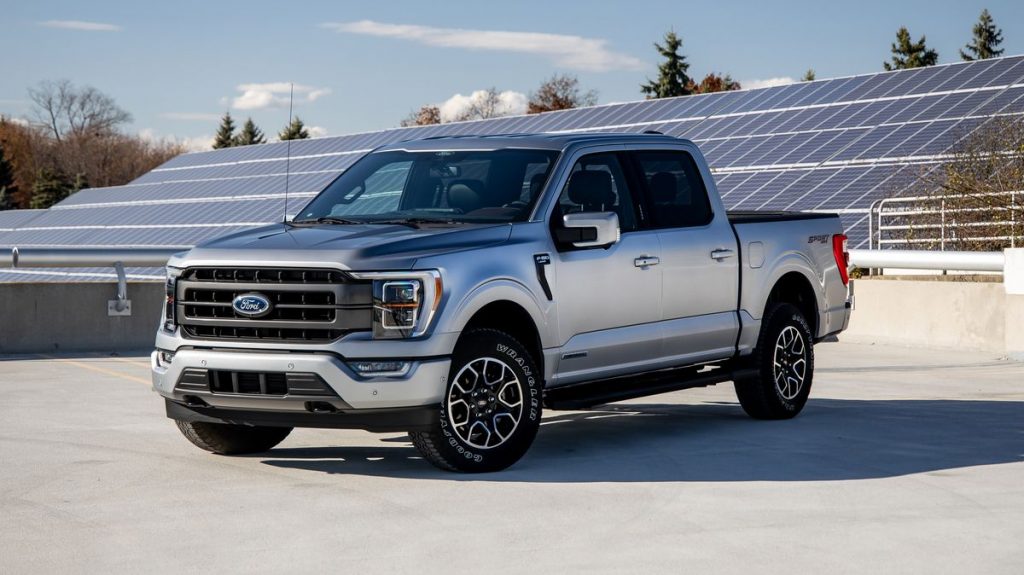 It can tow up to 14,000 pounds with a payload capacity ranging from 1840 to 3250. For the first time, Ford has offered a hybrid powertrain, and with new upgrades and inventive features, Ford F-150 plays its role for pick-up supremacy.
5. RAM 1500
The 2021 Ram-1500 starts at $30,895 and provides unrivaled luxury with innovation at its best. Its futuristic interior provides a comforted ride.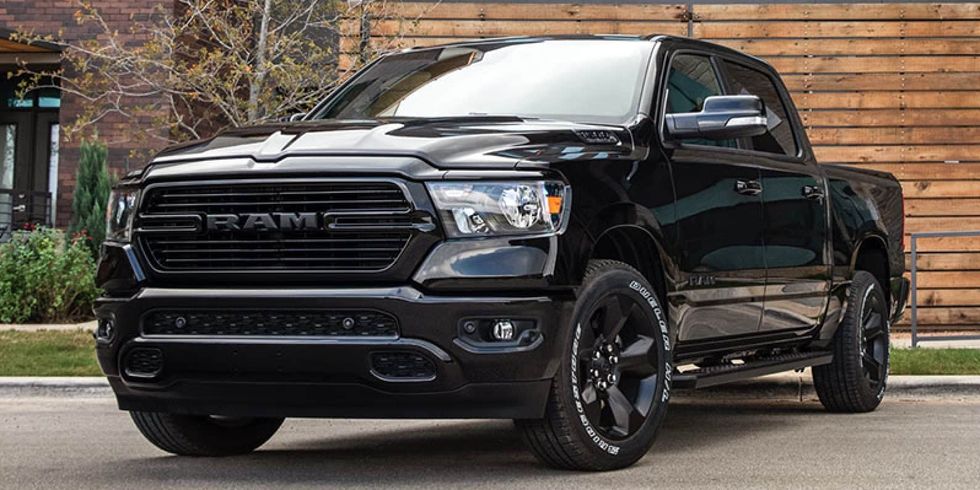 It can tow up to 12,750 pounds and carries a payload of 2320 pounds. Its V-6 and V-8 powertrains are paired with eight-speed automatic transmission and assisted by a 48-volt hybrid power system. For folks who like off-roading, it provides a legitimate experience.
Now it's all up to our truck lovers to land on a perfect choice. Although we hope that our go-to preference list will aid your decisions for the better.
---