Combining the highest levels of safety, space, comfort, and cutting-edge technology, Hyundai created its all-new multi-purpose vehicle, STARIA 2022, to redefine the future of MPV mobility.
STARIA received multiple accolades since its launch date for its revolutionary design and product innovation; from the 2021 GOOD DESIGN Awards in the transportation category to the 'Best of the Best' award at the Red Dot Award for Product Design 2022. On being recognized for the 'Best Cars 2022' readers' poll in the "Vans-import" category organized by Germany's Auto Motor und Sport, Andreas-Christoph Hofmann, Vice President of Marketing and Product at Hyundai Motor Europe said;
"The Auto Motor und Sports Best Cars Award is one of the most important and prestigious awards in the German automotive industry, which is our biggest market in Europe. STARIA represents our latest effort to spearhead the evolution of mobility and to address emerging lifestyle needs as we adapt to new ways of living. Winning this award for the van-import category at the first attempt represents a significant achievement for STARIA, and speaks to the outstanding work of the Hyundai designers and engineers who developed this model".
The Concept
The STARIA became popular among European drivers not only for its several accolades but for its design theme, 'Inside Out'. The concept of STARIA's design is inspired by the traditional Korean 'Hanok' architecture which exhibits a sense of spaciousness. Its unique design methodology is to merge the outside environment/atmosphere with the vehicle's interior for space and peace of mind; by improving the overall visibility, extending the spatiality and openness of interior design to the outside, and allowing the passengers to connect with the outside, the stars (STAR-RIA = STARIA). While the sleek exterior is designed to evoke a streamlined form of a spaceship along with a single stroke running from front to rear which is inspired by the curve of light that illuminates the Earth's horizon at sunrise when viewed from space.
The concept was also to make STARIA spacious, flexible, convenient, and luxurious enough to fuel all sorts of lifestyles on four wheels.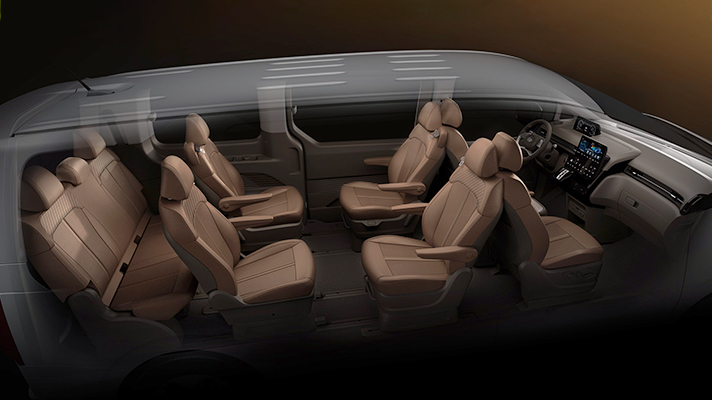 Exterior
In accord with the 'spaceship' design methodology, STARIA's exterior is a streamlined silhouette created with futuristic design elements like minimalist lines and lowered beltlines. Especially, the sleek front LED light and expansive panoramic windows underscore the spaceship vibe quite strikingly. And, the distinctive front LED cubes and wide grille with bold mesh pattern has a distinctive look that instantly attracts. Finally, the parametric pixel design of the rear LED lamps radiates the high-tech ability of STARIA completely, and the rear bumper is lowered for easy loading.
P.S. A total of eight exterior colours are available to complement STARIA's design along with three (03) variations in 18" alloy wheels with exquisite design options.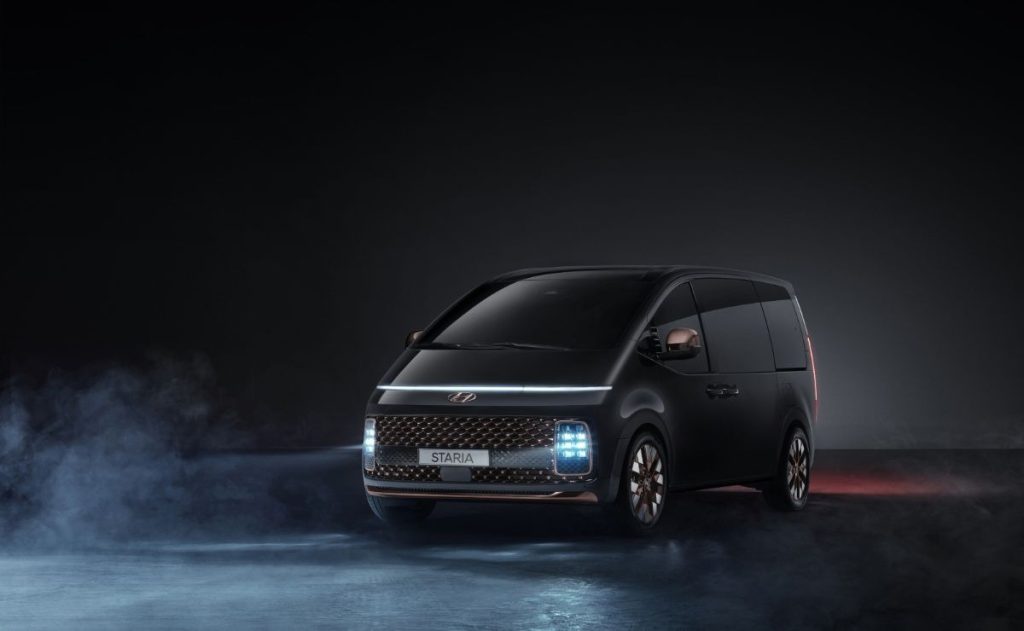 Interior and Features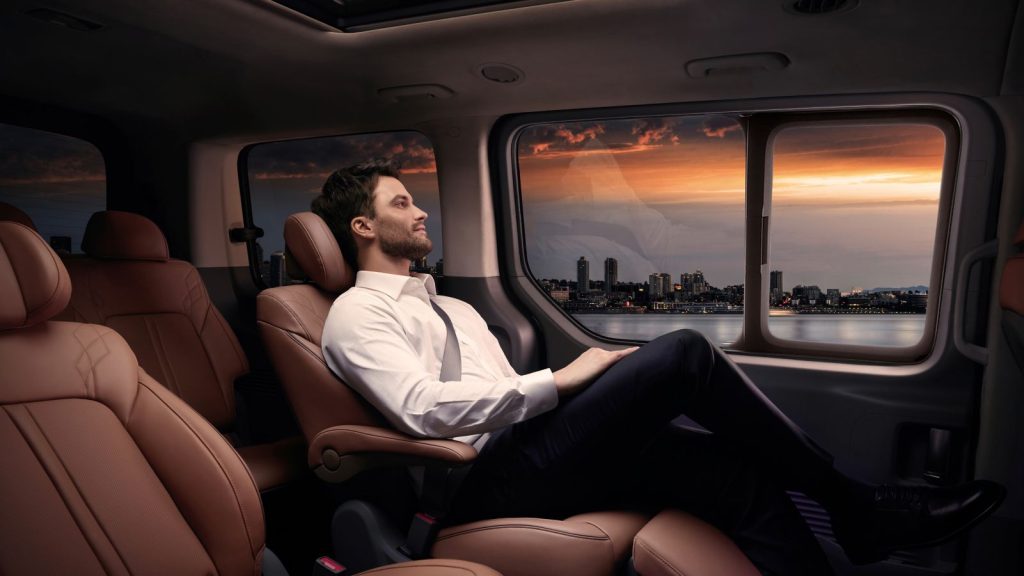 Along with the "inside-out" design methodology, STARIA's interior is inspired by the cruise ship's lounge design that welcomes you to luxury and smart technology. But first, we have to explore the features that make up the opulent interior of STARIA and see what's in it for us.
Comfort Features
Comfortable Seating
All seats inside the STARIA ensure optimal passenger comfort and depending on the version or trim level you choose, you can get;
Heated seats for winter activatable by a button are also available as an option for the 1st and 2nd row seating.
Ventilated seats for summers are available for the 1st and 2nd row seating.
Foldable Seats for extra comfort or loading on more luggage.
8-way powered driver's seat for setting the right position.
Premium relaxation seats that provide all-weather comfort with their 3-stage heating and ventilation functions. It also relieves the pressure points of a conventional seat providing an individually adjustable 2-way backrest, 2-way seat cushion and 4-way leg-rest and by redistributing your body weight, it makes you feel like you're floating in the air.
Passenger Watch and Talk
The wide-angle camera displays the rear passengers/pets on the 10.25" touchscreen while enabling unique microphones, and speakers for the driver to connect, and converse with them casually and easily.
Walk-in Device
A smart feature which allows easy entry as the driver can slide and recline the front passenger seat using only a button.
3-zone Air Conditioning
The air vents in STARIA's roof create three different climate zones that can be adjusted according to everyone's preference.
Surround View Monitor
The surround-view monitor enables a third person display of your car, helping you manoeuvre in tight spaces easily.
Smart Power Sliding Door
The smart door senses your presence with the proximity key and slides open and shut the door automatically, helping you get in and out easily when hands are full.
Smart Tailgate
The smart tailgate also requires no input from the driver and opens and closes automatically upon sensing the proximity key.
Heated Steering Wheel
Especially to soothe your hands during the cold days, the heated steering wheel provides instant comfort to tires/sore hands.
64-color Ambient Mood Lamp
This iconic feature creates a lush atmosphere by illuminating the cockpit, console, cargo areas, and doors. The shades are user-customizable for tranquillizing the mood on preference.
---
Connectivity Features
STARIA's cutting-edge connectivity ensures you're connected with the car, the phone, and the passengers for a fulfilled journey. Below are some smart techs featured in the MPV for a futuristic experience.
Digital Cluster
Graphics on the digital cluster change along with the selected drive mode.
10.25" Touchscreen
It allows you to gain easy access to navigation, connectivity features, and Hyundai Live Services.
Smart Wireless Charging
The fast wireless charging has a cooling feature which prevents smartphone overheating.
BOSE Premium Sound
The BOSE sound system has high-performance and optimally tuned speakers and subwoofers for a realistic sound experience.
Bluelink® Connected Car Services
With Bluelink® Connected Car Services, you can control the STARIA through your smartphone or voice. And, along with that you get a free five-year subscription to Hyundai's LIVE Services.
Safety Features
The STARIA will keep you safe and sound throughout the short excursions or long journeys with Hyundai SmartSense's best-in-class driver assistance systems:
Lane Following Assist (LFA)
Blind-spot Collison (avoidance) Assist (BCA)
Highway Driving Assist (HDA)
Rear Cross-traffic Collision (avoidance) Assist (RCCA)
Forward Collision (avoidance) Assist (FCA)
Blind-spot View Monitor (BVM)
Safe Exit Assist (SEA)
Rear Occupant Alert (ROA)
3-point Seat Belts and Six (06) Airbags
Performance
The MPV is not only about opulence and convenience, it will get you to your destination with powerful engine efficiency. So, let's discover STARIA's capability.
Engine
The Smartstream G3.5 produces a maximum power of 272ps and a maximum torque of 33.8 kg.m.
And, the 2.2 CRDi Diesel produces a maximum power of 177ps and a maximum torque of 44.0 kg.m.
HTRAC™ All-Wheel Drive
This smart all-wheel-drive optimizes the performance for various driving conditions by distributing power of the front and rear wheels accordingly.
Drive Modes
With Sport, Eco, and Normal driving modes you can customize and enhance your driving performance efficiently.
Transmission Choice
You can choose from the following transmission types for your STARIA:
8-speed automatic transmission
8-speed shift-by-wire automatic transmission
6-speed manual transmission
Shift-by-Wire (SBW)
The shift-by-wire transmission allows you to shift among drive, reverse, neutral, and park at the push of a button.
Now, let us discuss the space/storage options, distinctive interior, and seating configurations that come with the different trims.
STARIA Premium/Lounge
STARIA Premium comes as a 7-seater MPV with premium relaxation seats and 2-2-3 seating configuration, and also as a 9-seater with a long sliding adjustment function and 2nd – row swivelling independent seats that can rotate 180° degrees to allow face-to-face conversations with rear-seat passengers and 90° for easier entry and egress.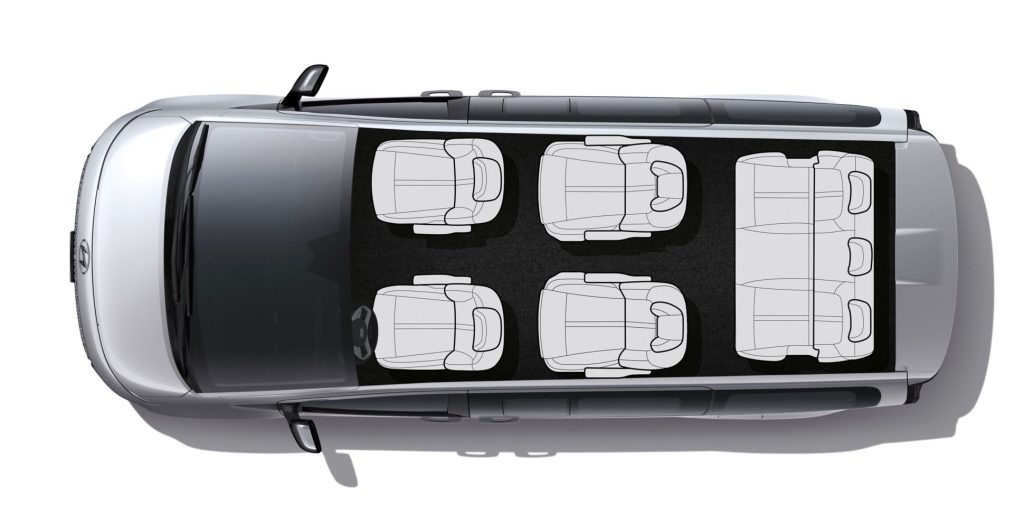 STARIA Wagon
STARIA Wagon is available as a 9-seater and 11-seater with 3-3-3 and 3-3-2-3 seating configurations respectively. All the seats are equipped with adjustable headrests and 3-point seat belts with a well-designed cabin with abundant legroom, shoulder room, headroom, and multiple USB charging ports to ensure living room comfort for everyone.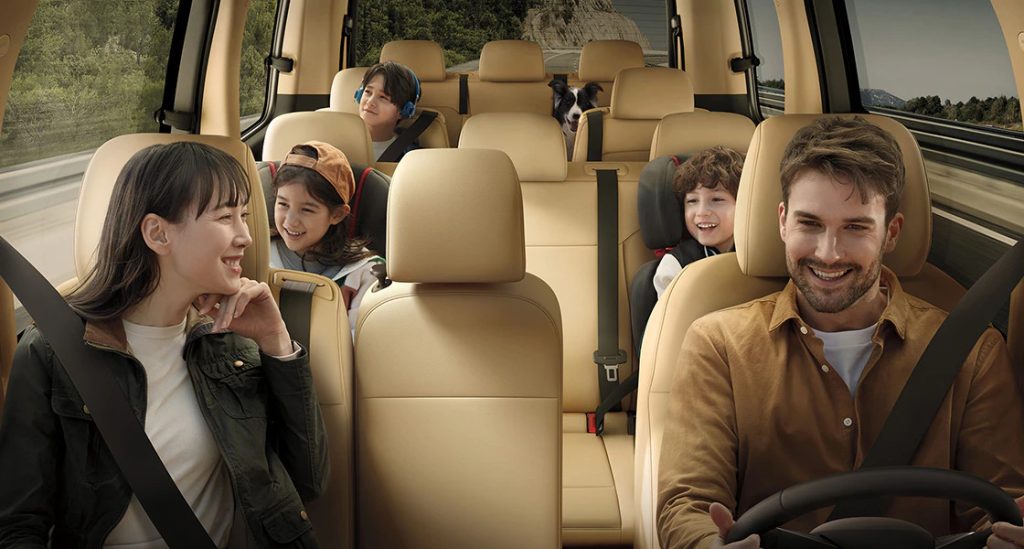 Plus, backrests for the 2nd, 3rd, and 4th row can be folded into a flat position to make a bed or increase the load space to 2,468mm.
STARIA Van
STARIA Van is specifically designed to be your ideal business partner; for drivers who demand extra cargo space and efficiency. It comes as a 3-seater with a 2.5m-long cargo bed that offers 4,935ℓ of luggage space, and easy loading and unloading of cargo with an 870mm-wide sliding door or tailgate.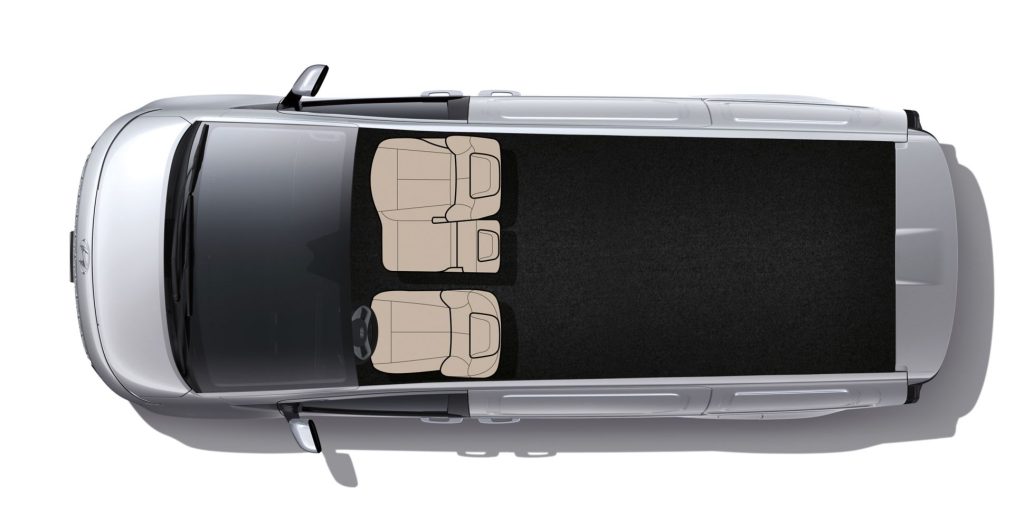 While the 5/6-seater has a 1.6m-long cargo bed, twin swing doors, and reduced ground-to-floor distance (up to 573mm) for extra loading convenience.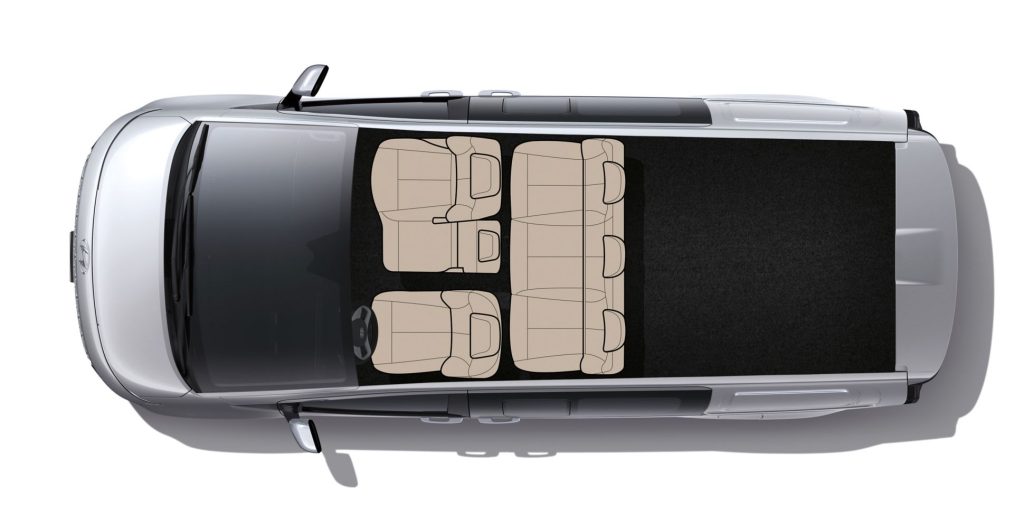 Our take? Whether it's summer or winter, you can always go out camping with the new STARIA without concerns of uneasiness as it's an all-inclusive MPV, providing the satisfaction of your lounge on four wheels.